A long, arduous trek to the beautiful Pindari Glacier in Kumaon didn't quite end as expected, says Rangan Datta
WAYFARER
The path leading to Kafni Glacier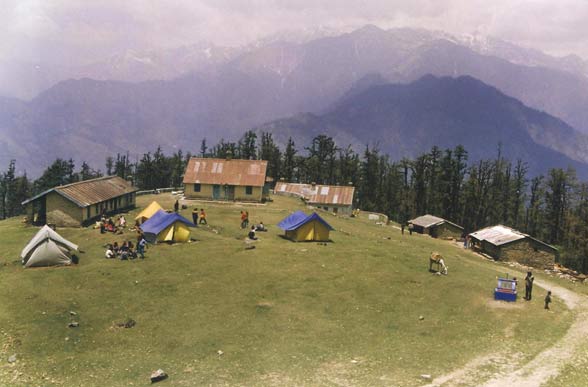 Veteran trekkers will tell you that the trek to the Pindari Glacier is one of the easiest in the Kumaon region. But as we gazed at the endless zone of ice that stretched all around us, it was clear that this isn't always true.
We had just left Furkia, a small settlement which is a short distance from the glacier, and barely 100m later we were surrounded by ice for as far as the eye could see. All the streams flowing into the Pindar River had frozen, turning the entire countryside into a treacherous ice field. If that wasn't bad enough, it had rained recently making the ice even more slippery.
Our journey up the mountains had started from Haldwani station and after two jeep rides we reached Song, the starting point of our trek by about 3pm. Though we wanted to start off immediately, we eventually settled for a short walk that day. Our destination was Loharkhet, 3km from Song.
I have to admit that we made heavy weather of our 3km-trek — we had already been travelling for about 48 hours and had arrived in the mountains from half-way across the country. It was great to bunk down in the comforts of the Kumaon Mandal Vikas Nigam (KMVN) bungalow in Loharkhet.
Re-energised by our night's sleep, we hit the road next morning, after witnessing a glorious sunrise and finishing off a heavy breakfast. It wasn't as easy as we had expected because the trail weaved in and out of a dense jungle. And if that wasn't bad enough, we were still at a low altitude and it was blisteringly hot.
An impromptu local sheesha session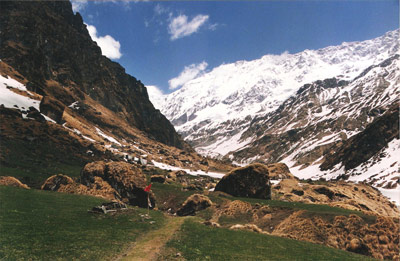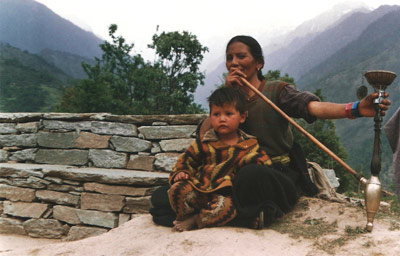 We took frequent breaks when the trail occasionally emerged out of the jungle. There were plenty of tea stalls at these spots, which we made the most of. The steep path led to a small pass called Dhakuri Khal, famed for its great views of the mountains. But we had run out of luck — when we reached the pass, the view was overshadowed by heavy clouds.
A short but steep descent brought us to the Dhakuri meadows, where there are several hotels and a beautiful camping ground dotted with multi-coloured tents. After a short break we headed towards Omlar village and onwards to the Khati village, with its slate roof houses and terraced fields. We ended our day's trek at Khati's KMVN bungalow, situated on its outskirts.
It was here that we received our first intimation — the trek wouldn't work out quite as we had hoped. We met a group of trekkers on their way down who told us that the entire Pindari Glacier region was covered with ice and the glacier's snout was completely inaccessible.
Nevertheless, we set off the next morning on the third day of our trek from Khati with our fingers crossed. The beautiful Pindar River soon came into full view and we began to follow the left bank of the river.
Eventually, the trail led us towards the riverbed and after some serious boulder-hopping, we crossed the river on a scary rickety bridge with no handrails. The going got trickier and after crossing the river we made our way up a steep path through a dense jungle once more.
This route followed the right bank of the river and we soon caught sight of trekkers' huts at Dwali. Crossing the Pindar again — but on a bridge with handrails this time — we reached Dwali, where trekkers' huts are put up on a beautiful camping ground for the crowd of trekkers who turn up each year. We set up camp here and called it a day.
The Dhakuri meadows dotted with trekkers' huts
The signs were fairly grim the next morning too, with dark clouds looming large all around. We left our heavy packs behind and headed out with some dry food, water bottles and cameras. Luckily, we were accompanied by Tara Singh at this point, a young guide who was also armed with an ice axe.
About 2km from Dwali we came across our first patch of ice. It was slippery but steps cut out by earlier trekkers made it easier.
We walked through several ice patches, some of them extending all the way to the Pindar River. The weather changed from bad to worse and when we reached Furkia, it began to rain. We hung around in a small hotel sipping cups of hot tea, waiting for it to stop.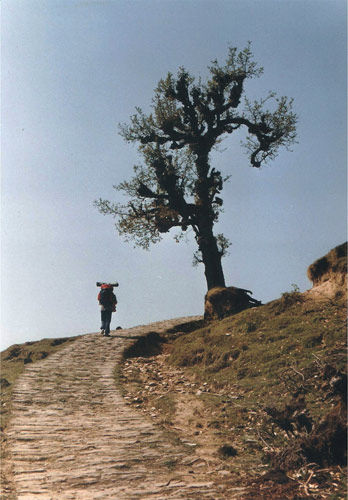 It stopped raining suddenly. The weather cleared a bit and we set out at once for the glacier. But it all went wrong as we hit numerous ice fields. We only caught glimpses of the snow-clad peaks in the distance because of the clouds. We carried on as the clouds and the mountains played a fascinating game of hide-and-seek.
But eventually it began to rain again. We were left with no option but to abandon the trip. We returned to Furkia and then went back to Dwali.
Dwali lies by the confluence of the Pindar and Kafni rivers and we decided to try an alternative route. The next day, we followed the Kafni River right up to Kafni Glacier. Initially the route was fine but after about 2km, we again entered a zone of ice.
This route was less steep than Pindari but this time there were no steps cut in the ice. Singh did a wonderful job of cutting steps all the way. We trekked through several ice patches before reaching Khatia, whose lone tea stall was closed. After resting briefly, we continued on our journey. Soon the entire valley opened up to reveal a host of slow-clad peaks. The scenery was simply breathtaking but the ice made our progress really difficult.
After edging our way forward for about 8km we reached a place called Bailigad where there's a small shrine dedicated to an unknown god. We resumed our trek after a short repose, but with every passing step it became tougher to negotiate with all the ice.
Finally about 3km from our goal we decided to quit. We followed the same route back to Dwali and after a night's halt there, we retraced our steps back home.
Pindari is an easy trek but it's impossible to make predictions regarding the mighty Himalayas. Even a fairly simple trek like the one to Pindari Glacier can turn into a highly technical one.
We returned unsuccessful but undefeated. For, the journey had been worth every step, what with its share of adventure, beauty and the adrenaline rush that a challenging trek unfailingly brings with it.
Ready reckoner
Getting there: Kathgodam, the nearest railhead, is well connected with most cities including Calcutta, Delhi and Lucknow. It's best to get off at Haldwani (the station before Kathgodam) for access to better transport. Direct jeeps are not available. Break journeys may be required.
Staying there: Accommodation is available at the KMVN and PWD bungalows and also in some private hotels.
Best time to visit: Mid-May to late June and mid-September to late November.