Next weekend you can be at Palpara
The Archeological Survey of India (ASI) website describes it as the Palpara temple while the local people call it Math Mandir, Kali Mandir or Shiva Mandir. The 17th century temple, long abandoned, was recently restored by the ASI and declared a monument of national importance.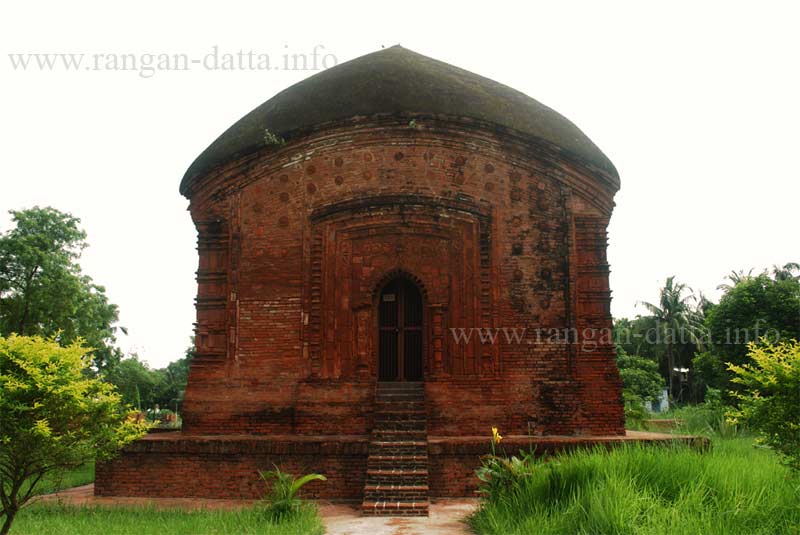 The charchala structure (where the four sloped roofs form a pinnacle) made of brick and facing south stands on a raised plinth. It is believed to have been built by Gandharba Roy in the 17th century, although the plaque containing information such as the name of the founder and the year of foundation has long been lost. The temple stands on a square base and is around 21 metres tall.
The decorated arched entrance is flanked by brick pillars on either side. The area above the arched entrance once contained intricately carved terracotta panels but most of them have been destroyed by nature and neglect. Scenes from the Ramayana, geometric and floral patterns and the lotus motif are all that remain of the detailed terracotta works that once adorned the walls. There is a panel showing Rama shooting arrows and another in which Ravana is defending himself.
Charchala temples are one of the earliest forms of temple architecture in Bengal and only a few of these structures are still standing. With time, the charchala was modified into the aatchala, which consists of a charchala upon a charchala, and is the most common type of temple architecture in Bengal.
Located 59km from Calcutta on the Sealdah-Krishnagore railway line, Palpara can be reached in an hour and a half by local train. Although trains are frequently available, for the most comfortable journey take a morning train. Residents of the area might direct you to another temple frequented by devotees, but there's hardly any history attached to it.
It is best to walk along Palpara Station Road to a T-junction and take a left turn towards Lokenath Bhavan and Durganagar Tarakdas Vidyamandir. Palpara Temple is a short walk from the junction.
The temple is surrounded by a 5ft high wall. A board of the ASI describes it as a monument of national importance. Another board offers a brief history and description of the temple. The complex remains locked and the caretaker can rarely be found. So be prepared to scale the boundary wall.
The garden around the temple is overrun with weeds. A narrow pathway leads to the temple, which is usually locked. One cannot enter the sanctum sanctorum of the temple.
Although robbed of its former glory and lying in neglect, the Palpara temple provides an insight into Bengal's early temple architecture.
Trip tips
Krishnanagar, Shantipur and Gede local trains pass through Palpara. Trains are frequently available from Sealdah. The 59-km journey usually takes 1 hour and 30 minutes.
The Palpara temple is a 10-minute walk from the station. Ask residents for directions to the Lokenath Bhavan or Durganagar Tarakdas Vidyamandir. There are many eateries
(METRO ON SUNDAY THANKS RANGAN DATTA FOR THE CONTRIBUTION.
PICTURES BY AUTHOR)