"A visit to this paradise can divide your life into two halves ~ before and after Kashmir", writes Rangan Datta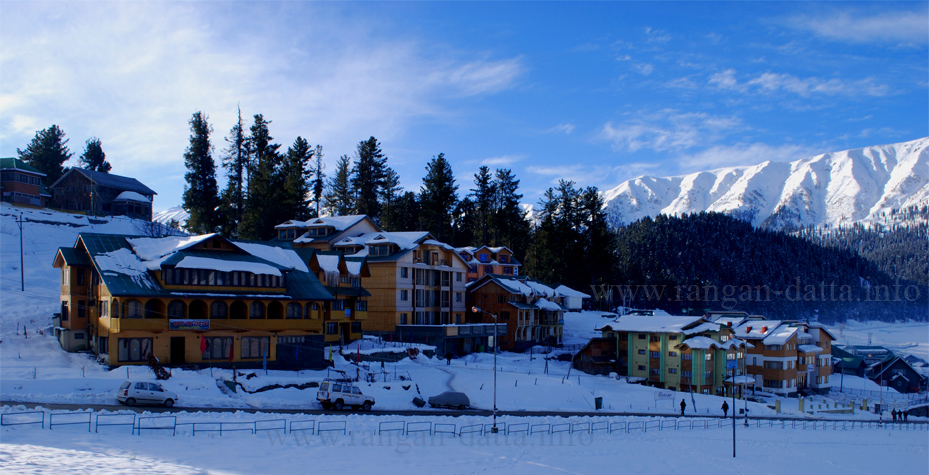 It is said that the Eskimoes have a hundred synonyms for the word snow. Standing on the snow slopes of Gulmarg I wondered if the Kashmiris have more.
It was early winter and the snow was yet to come in Srinagar, and the bare Chinar trees welcomed me to the valley. After spending a couple of days in a barren landscape and under an overcast sky I decided to head for Gulmarg.
As my jeep gained altitude, patches of snow started appearing. Soon the patches grew bigger and bigger and by the time I reached Gulmarg (2653 m) it was snow, snow and more snow. It was my first visit to Kashmir and it felt like was in paradise.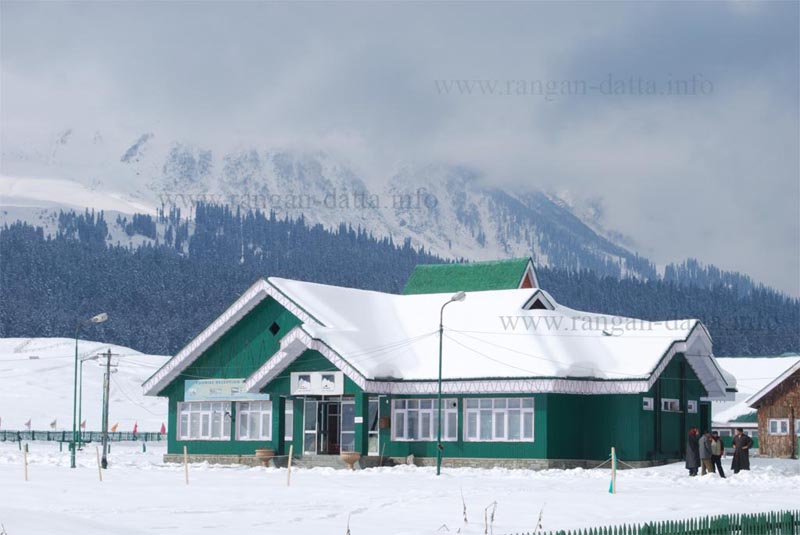 After checking in one of the numerous hotels and a quick brunch, I stepped out to explore the place. But I was soon surrounded by the sledge wallas. The sledges are nothing but an indigenous version of Kolkata's hand-pulled rickshaw, where you are carried along snow in a wooden carriage without wheels (like a piece of log) by a fellow human being. It was nothing adventurous and I decided to give the sledge ride a miss but the in the process probably denied a poor man his income.
My first stop was the Rani Temple. Built in 1915 by Mohini Bai Sisodhia, wife of the last king of Kashmir Hari Singh, the temple is strategically located on a small hillock and is visible from every part of Gulmarg. I followed the snow covered slippery steps to the temple only to find it locked, but the view was incredible.
Moving on, I headed for the J&K Tourism office. Located about 500 metres away, the British cottage styled building was totally covered with snow. But the office was open and the young tourist officer provided me not only with tourist brochures but also chalked out an itinerary for my one-and-half-days' stay in Gulmarg.
Next to the tourism office is the Gulmarg Golf Club. The century old Gulmarg Golf Club is situated in a similar cottage. Bypassing it, I headed through the snow covered golf course to the St Mary's Church, located on a hillock overlooking the golf course.
Built in 1902 the church contains some stained glass work. After a brief stop at the church, I made my way through the snow covered meadows, where the enthusiastic tourists try out their newly learnt skiing skills. I preferred to wander aimlessly to a hilltop, said to provide great views.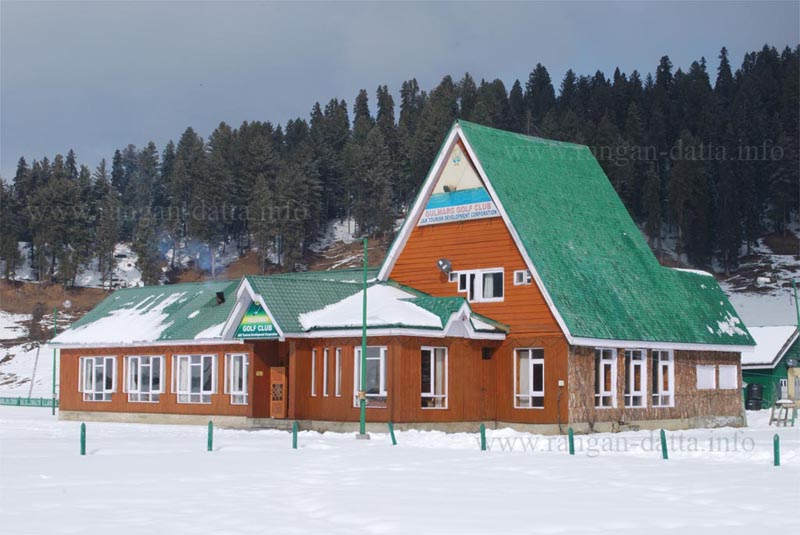 It was late afternoon and by the time I reached the viewpoint, the clouds reigned supreme and it was all set to snow. I took a shortcut and made it to the warmth of my hotel room just before the snowfall began. The snow continued all evening and late into the night.
Next morning I was greeted with the most spectacular sight. The snow had stopped and the skies had cleared. Without losing much time I went out with my camera.
After a breakfast I headed for Gulmarg's prime attraction the Gondola Cable Car. As my four seater cable car started to move, I was rewarded with a spectacular view of the Gulmarg valley crowned with the eternal snow peaks of the Himalayas and Karakoram. The ride was short and I was soon in Kongdori (3045m), where there was more snow.
I walked past the frozen seven springs, known for seven natural outlets of water, and headed for Khilanmarg. Located 4 km away Khilanmarg is known for its breathtaking views of snow peaks extending all the away to Pakistan. But within a kilometre the snow reached well above my knee and I was forced back to Kongdori, from where I took the cable car back to Gulmarg.
Now it was time for home. As I retraced my steps back to Srinagar, I was reminded of a line from J&K Tourism Brochure "They say a visit to Kashmir can divide your life into two halves – before & after Kashmir."
Calcutta – Jammu: Jammu Tawi or Himgiri Express (Sleeper Calss Fare Rs514)
Jammu – Srinagar: Jeep (Fare Rs 300, subject to bargaining, Time 6 hrs)

Srinagar – Gulmarg: Jeeps Batmol (in Srinagar) – Tanmarg (Rs50, 45 mins)

Bus Tanmarg – Gulmarg (Rs10, 10 mins)

Places to stay: Numerous hotels of all budget starting from Rs400 (aprox.)

Places to eat: Apart from restaurants there are numerous road side eateries.

Getting around: In winter sledge (charges about Rs100 / hr, subject to bargaining) & walking are the only options. In winter the Cable Car operates up to Kongdori (Rs 300 for round trip).
Activities: Skiing ~ a 7 day course is recommended to learn the basics of skiing before taking to the slopes.