26 June 2010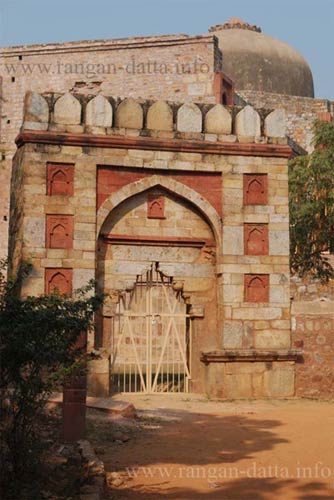 Balban's Tomb at Mehrauli has great architectural importance since it contains the first true arch to be constructed in India, says Rangan Datta
As I walked out of the Qutab complex, two strange looking pyramid like structures attracted my attention. In a bid to explore I took the footpath between the two and reached an open area marked as Mehrauli Archaeological Park. Straight ahead was an octagonal structure. Suddenly a few lines from Willam Dalrymple's famous novel The Last Mughal flashed into my mind "To the south of Delhi, Metcalfe established a second country house, "Dilkusha" (Delight of the Heart), in a converted octagonal Mughal tomb near Mehrauli ….a Mughal garden – a four part charbagh – was laid out in the front of the tomb".
The octagonal tomb of Adham Khan, foster brother of Akbar was converted into a country house by Sir Thomas Metcalfe. The house was not only came with a char-bagh (four stage garden) but was complete with a lighthouse, small fort, pigeon house, boating pond and two ornamental ziggurats. And these two ziggurats or Mesopotamian pyramids had attracted my attention.
The octagonal tomb was built in 1562 and contained a complicated network of passageways. In 1830s Metcalfe, who worked as a negotiator between the East India Company and the Mughal Ruler, transformed this Mughal tomb into an out – house. But glorious days of Metcalf's Dilkusha were shortlived. During the Great Revolt of 1857 the house was ransacked and abandoned.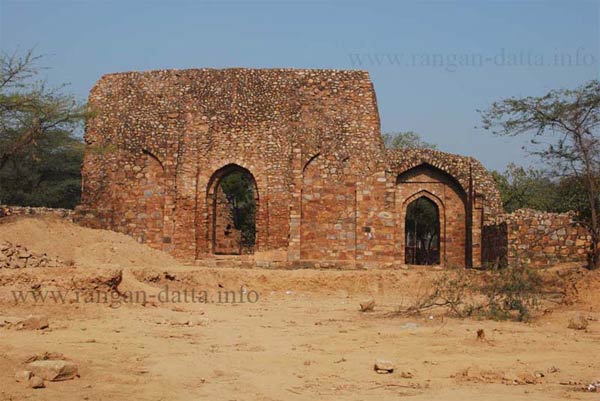 Over the next one and half centuries, the entire region was covered with vegetation with only glimpses of archaeological structure visible. In 2001 – 02 a massive conservation initiative was taken up by Indian National Trust for Art and Cultural Heritage (INTACH), which gave birth to the Mehrauli Archaeological Park, housing about 70 archaeological monuments.
Although located at the shadows of Qutab Minar, the Park is hardly visited by tourists.
I soon began to explore the place climbing the steps of Metcalfe's Dilkusha. Sadly nothing much remains of his favourite country house, which once bridged the Mughal Empire with the British rule. Moving on, I walked past Metcalfe's pigeon house, small fort and finally the boating pond with its ornamental flight of stairs.
I followed the zigzag trail across the undulating landscape to a beautiful sandstone structure known as the Jamali – Kamali Mosque. It contains the twin burial chambers of Jamali and Kamali. Jamali was a saint and poet in the court of Sikander Lodi but nothing is known about Kamali.
The domed mausoleum, with pointed archways, is a protected monument and indeed it was protected under lock and key. My efforts at locating the caretaker went in vain and all I could do was to admire the beauty of protected monument from outside the gate.
Dejected I continued with my exploration and walked past the scattered ruins of a public courtyard and residential units, a part of a flourishing settlement of 16 - 17th century.
At the end of the ruins lies a more or less intact structure made of rubble masonry, housing the mortal remains of the Balban, the last Slave Dynasty ruler. Although nothing spectacular, the Balban's Tomb is of great architectural importance as it contains the first true arch (constructed by circular arrangement of stones) to be constructed in India.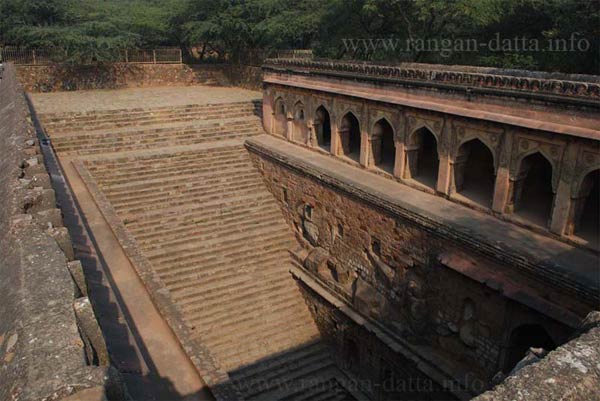 A little away from Balban tomb lies the step well of Rajon – ki – Bains. A step well or 'Baolis' consists of a vertical shaft from which water is drawn and is surrounded by subterranean passageways, chambers and steps which provide access to the well. The galleries and chambers surrounding these wells provide a cool and quiet retreat during summers.
This four stage steep well was built in 1516 and remains surprisngly intact. Although the water has long dried up, it still provides a cool and quiet retreat not only from the hot summers of Delhi but also from it notorious pollution.
Bidding farewell to the spectacular structure I walked passed several ruined structures before finally making it to the crowded and polluted streets of Delhi.
Travel tips
Mehrauli Archaeology Park is located next to the Qutab Minar Complex. There is no entrance fee or restrictions on photography.