On December 24, 1886 at Aatpur, nine disciples of Sri Ramkrishna, including Swami Vivkanada, took the oath of renouncing their homes and dedicating their lives for the welfare of mankind. Today, a memorial adorns the place and every year on December 24 devotees from far & near come here to celebrate the historic occasion.
However, Aatpur's history dates far behind this day. Exactly 100 years before this event, Krishnaram Mitra, the Dewan of Maharaja of Burdwan, constructed the Radhagobinda Temple. The towering aat – chala temple has a triple arched entrance and the entire front face is covered with the fine terracotta works.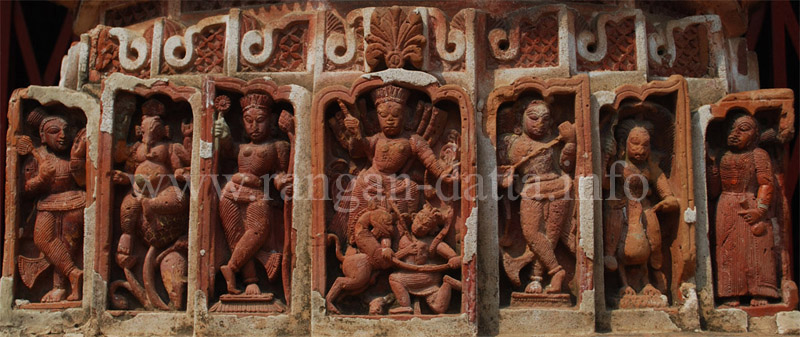 There are interesting stories about the origin of the name Aatpur. According to some, Aatpur was named after the jamindar Atar Khan, while others believe the Aatpur is a combination of eight villages of the kingdom of Bhurishreshtha.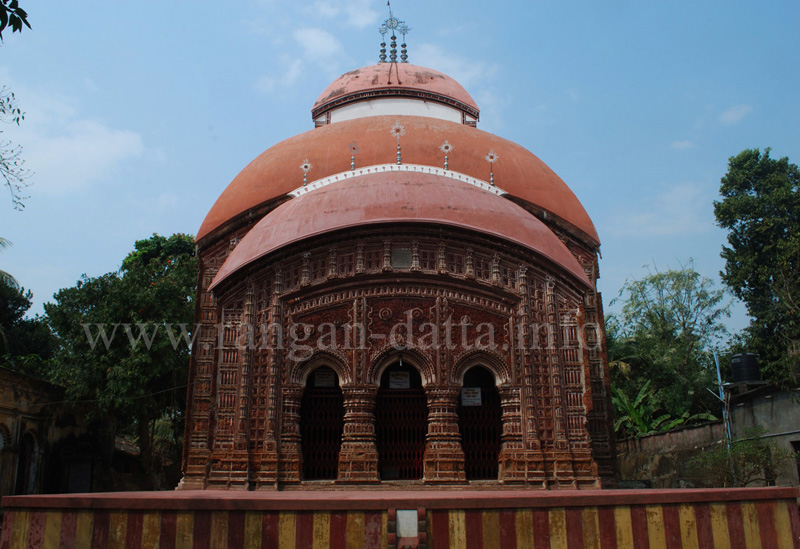 Located at a distance of 50 km from Kolkata, Aatpur is well connected by road and busses are available from Esplanade & Howrah. You can also board the local train to Tarakeshwar. Haripal is the nearest railhead and a short trekker ride takes you to Aatpur.
The temple was constructed in a transition period that marked the beginning of European era. The panels reflect this transition. Apart from images of gods & goddesses, a number of panels exhibit European lifestyles. Soldiers with bayonet mounted guns and hunting scenes with dogs are abundant on the walls of the temple. An elaborate Durga panel is the prime attraction.
The temple complex also houses five Shiva Temples. Built in the late 18th century these are smaller in size. The complex also houses an octagonal Rashmancha and a square Dolmancha. Another attraction of the complex is the hay thatched wooden Chandimandap. Built by Krishnaram Mitra the mandap has intricate wood curving on its pillars and ceiling beams.  
Ramkrishna Math is worth a visit. Apart from the Dhuni Mandap, where the historic oath taking took place, the math has several other shrines dedicated to Sri Ramkrishna and Vivekananda.