Next weekend you can be at ... Bali-Dewanganj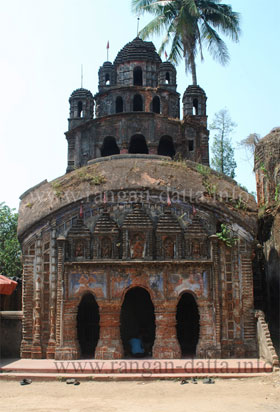 Bengal's temple architecture can be classified under two broad heads — chala (sloping roof) and ratna (pinnacle) style — but rarely do these two styles combine in a single temple. The Durga temple of Bali-Dewanganj is probably the best example of that rare architectural meeting point in Bengal.
Bali-Dewanganj is a non-descript village in the Arambagh subdivision of Hooghly district. Take a train to Tarakeswar followed by a bus to Bali-Dewangunj. Get down at Haldarpara, from where a winding road leads to Routpara.
Routpara has five temples, of which three are crumbling. The Mangal Chandi temple on the left side of the road has 13 pinnacles but none of them has survived the vagaries of time. Not much is known about the structural details of the other two ruined temples, but somehow one pinnacle has survived in each temple. The fourth temple in the complex is a small Shiva temple, probably constructed at a much later date.
The most important structure of the complex is the Durga mandir, which has remained remarkably untouched by time for over 200 years. The structure is maintained by the West Bengal State Archaeology Department. The temple can be approached by three arched entrances with elaborate terracotta carvings on the front. Above the arches, in the centre, lies a huge terracotta panel of Durga.
This is probably the largest terracotta panel in all of West Bengal. It is flanked by slightly smaller panels — of Lakshmi and Ganesh on the left and Saraswati and Kartik on the right. Stucco work, in the form of temples, surrounds each of the five panels. There are several smaller terracotta panels on the front facade.
Retrace your steps to the main road, and you will reach an octagonal Rashmancha. Sadly, the century-old structure has been reconstructed, but the modern structure has neither the beauty nor the grace of its former avatar.
If you want to see more terracotta carvings, walk along the main road towards Arambagh. You will soon come across the crumbling remains of another Rashmancha. Ten minutes further down the road is a dilapidated temple on the right. Though overgrown with trees, the temple still contains a few intricately carved terracotta panels.
A few minutes later in the same direction, you will come across a spectacular mansion with arched gateways and slender columns. Known as the Shiva Kutir, the awe-inspiring building has long been abandoned. The interiors are covered in foliage, which gives it a touch of mystery.
Going:
Take the Tarakeswar Local from Howrah and get off at Tarakeswar. Then take a bus to Bali-Dewanganj, an hour and 45 minutes away.
You can also take the Esplanade-Arambagh bus. Take another bus from Arambagh for Bali-Dewanganj. No transport is available for sight seeing.
Staying:
Bali-Dewanganj can be visited on a day trip.