Of Chariots, temples & folk songs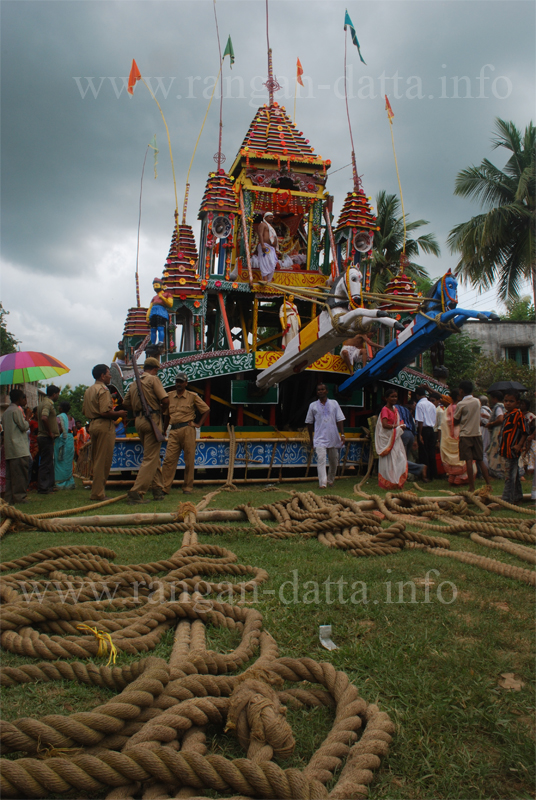 Guptipara, A non – descriptive village about 75 km from Calcutta has the distinction of housing Bengal's first Baroari (Community) Durga Puja. But when it comes to festival of Guptipara the first thing that comes into mind is Rathajayatra.
The gigantic nine pinnacled rath is decorated with coloured festoons and banners and is fitted with wooden horses and several wooden statues. The multi wheeled rath is pulled by four thick ropes, out which one is reserved for women. A rope at the back serves as a brake. The rath is pulled through muddy & slushy ground in a wild rampage and it seems a miracle that the event goes on without a stampede. The event is heavily monitored by the police who clear the crowed to make way for the rath.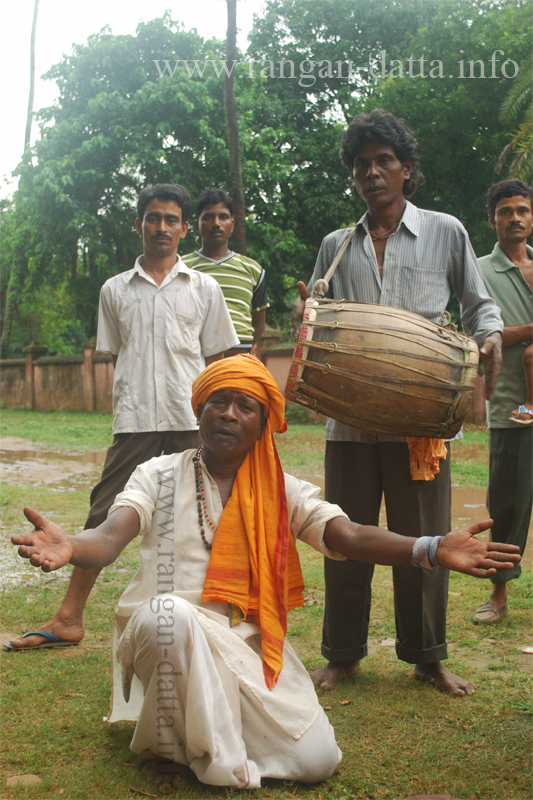 The seven day period between the rath and ulto rath is marked with a mela (fair). The mela is complete with marry go rounds, magic & circus shows, makeshift stalls sells household wares to decorative showpiece. Last but not the least is the food stalls selling papad bhaja to hot jilipis. But the age old fairs is also going through the process of evolutions with egg rolls and chowmein being the most preferred food items while stunt bike rides are the new source of entertainment.
Guptipara is also the birthplace of sweet maker Bhola Moira, who was famous not for sweet making skills but for his Kabi gaan (Folk Songs). The famous musical duel of Bhola Moira and the Anglo – Indian Antony Firingi, has been made immortal by Uttam Kumar's movie Antony Firingi. Even today Vishnav singers perform reminding one of the glorious days of Bhola Moira & Antony Firingi.
No visit to Guptipara is complete without a visit to its temple complex, housing the four Vaishnava Temples. Chaitanya, Brindabanchandra, Ramchandra and Krishnachandra Temples offer an interesting mixture of Bengal temple architecture. The 60 feet high Brindabanchandra Temple, built in 1810, dominates the temple complex. Although the aat – chala (eight sloped roof) temple lacks the terracotta work it is largely compensated by coloured fresco on both outer and inner the walls. The ek – ratna (one pinnacled) Ramchandra Temple is no less in attraction with its elaborate terracotta works.