The Telegraph - Metro on Sunday 18th March 2007.
Next weekend you can be at ... Dhosa and Tilpi... 
The ruins of one of the 22 Buddhist stupas believed to have been visited by Chinese explorer Fa Hien and the remains of a furnace in which the ancient smiths melted metals like silver, copper and iron to cast them into coins are the prime attractions of Dhosa and Tilpi.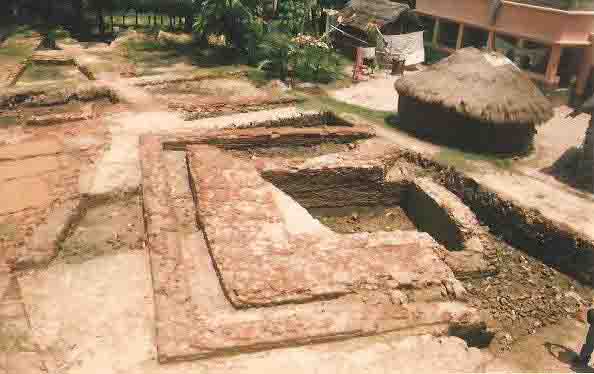 The names may sound alien but both places are close enough to Calcutta to be explored on a single Sunday. The twin hamlets are Bengal's latest archeological attractions. They are located near the railhead of Gocharan on the Sealdah (South)-Lakshmikantapur route.
It is best to take a morning train. You will be in Gocharan in little more than an hour. From there, a bumpy (and sweaty) autorickshaw ride will take you to Dhosa. So many people are packed into each three-wheeler that you will definitely remember the Fevicol advertisement.
Get down at Dhosa bazaar and walk a few yards to the right to reach the archeological site. Since the digging began there in early February 2006, a structure comprising concentric squares has been unearthed at Dhosa. The work was halted because of the rains but resumed in winter.
The perfect day to explore the ruins is when the archaeologists are not there. You can even climb the temporary observation tower for a bird's eye view. Historians are of the opinion that the structure unearthed was religious in nature. Links can be found with Buddhism practised in the Gupta period.
The structure could also be the evidence of a remarkable Buddhist civilization — mentioned by Fa Hien — that had flourished in south Bengal in the second and first Century BC. Historians have not reached a conclusion though.
The most remarkable finds in Dhosa are a Buddha head and a male torso, bearing features of the sculpture of the early Gupta period. Hand-moulded plaques are among the other interesting finds. The artifacts have been kept in the state archeological museum at Behala.
To reach Tilpi, head back to the bazaar and take a van. Unlike Dhosa, no grand structure has been unearthed at Tilpi. Archeologists suggest that what has been found is the remains of a furnace. Numerous pieces of pottery, including black glazed artifacts dating back to the second Century BC, have been found around the furnace.
If you want to take a close look at the artifacts found, strike up a friendship with locals, many of whom have collected several pottery pieces.
Trip tips :
Namkhana / Lakshmikantapur local. Get down at Gocharan. The trains are available at about an hour's interval. The journey takes around an hour. Take an auto from Gocharan to Dhosa and a van from Dhosa to Tilpi. A day trip is enough to cover both places. There are eateries at Dhosa. 
(Metro on Sunday thanks reader RANGAN DATTA for this contribution. Picture by author)